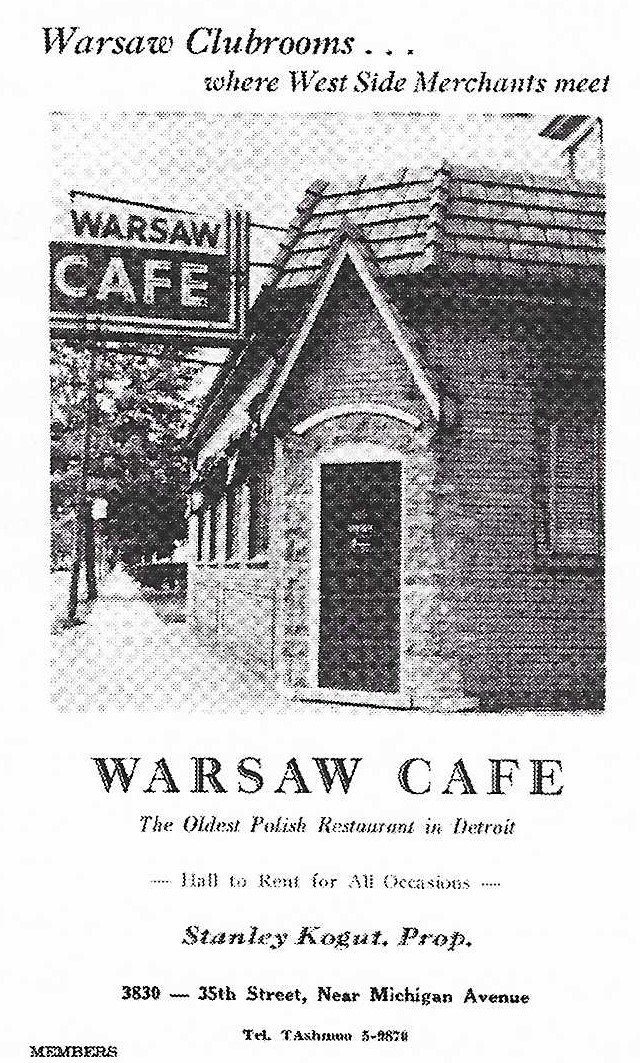 Located at 3830 35th Street, Detroit 48210
The Warsaw Café existed in a time when our west side Polish neighborhood was a friendly, close-knit community, and restaurants were gathering places where people met to discuss business and to socialize and where lasting relationships were formed. It was a time when young men and women going to high school at St. Andrew looked forward to getting a new outfit to celebrate the occasion of Ring Day. That was the day on which a young man or woman received his or her class ring-a milestone occasion.
For Ring Day, a young woman would get a new dress from one of the dress shops in the neighborhood-perhaps from Evelyn's Dress Shop at 7342 Michigan Avenue at Tarnow. Her dress would be simple and sophisticated and fitting for the occasion, such as navy blue wool or linen with white collar and cuffs. Ring Day was a very exciting day in a young woman's and young man's life.
People in the neighborhood gathered at places such as the Warsaw Café at 3830 35th Street. It was a very popular Polish family restaurant during the early part of the twentieth century. Next door was the Idlewild II Bar at 7505 Michigan Avenue, which operated from 1956 to 1969 and was owned by Norbert and Irene (Pakula) Romej. Norbert and Irene remember the restaurant well, as does Irene's brother Anthony ("Tony") Pakula, who went there often to enjoy a bowl of the delicious borscht (beet soup).
The Warsaw Café was owned by Walter and Ann Kogut, who were Canadians. They were sociable people who ran a friendly establishment. Patrons frequented the restaurant daily for breakfast, lunch and dinner to enjoy the hearty Polish food that was served. gołąbki, meatballs, and beet soup were popular menu items. Fresh, homemade pies were served daily, which were very popular and delicious.
Dr. Tomczak, an eye doctor, was located right on the corner. Dr. Tomczak was one of the restaurant's frequent patrons. He liked to go to the Warsaw Café for lunch and sometimes for supper before he went home. It was a friendly, neighborhood restaurant.
The building was about 60′ wide by 120′ deep. All the cooks were Polish. Back then, the neighborhood was thriving and bustling with activity. A typical day saw area business people flocking into the Warsaw Café. In addition to business people, the restaurant also drew a lot of the truckers from the trucking company on Central Avenue. Patrons filled up the seats at the tables, as well as the old-fashioned stools at the counter area. There were no booths such as the ones we're accustomed to seeing in so many restaurants today. There was no soda fountain, either, but further down on the corner of Central and Michigan Avenue there was a soda fountain in Cunningham's Drug Store. That was another popular spot where people met.
The Warsaw Café was also the first headquarters of the West Side Merchants League. The League, whose first president was Adam F. Brezinski, was formed by a group of businessmen and organized on October 1, 1923. Among its many achievements, it was responsible for the building of Chadsey High School. The League's purpose, according to its Constitution as approved and adopted at its regular meeting on January 8, 1951, was "to aid in making the western section of Greater Detroit as desirable as possible for residence and business purposes; to promote safety, health, education and recreation in the community; and to endorse good government."
One can imagine those early visionaries of our west side Polonia gathering at the Warsaw Café for breakfast, lunch and dinner meetings as they planned and strategized. What would west side Detroit have been like without them and their hours of dedication and commitment? They were our founding fathers-father figures who really cared about the future of their children and the future of our west side Polonia.
As we look back, it was places like the Warsaw Café-warm, friendly neighborhood establishments that were owned and operated by Polish families that created a beautiful atmosphere and wove our west side Polonia together. Our neighborhoods were filled with such places. We can gaze back at them and reminisce about a wonderful, lively time in our history.
The Society is grateful to Irene (Pakula) Romej and Norbert Romej, sister and brother-in-law of WSDPAHS Honorary Member Anthony ("Tony") Pakula, and to Tony Pakula, for providing the information necessary to complete this history.