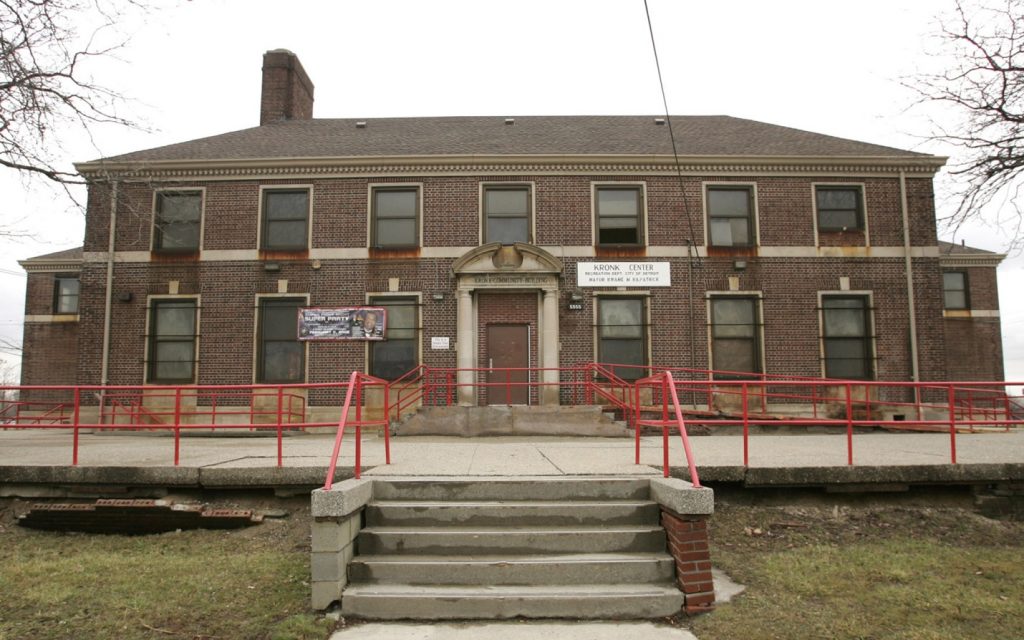 A History of the Kronk Recreation Center
5555 McGraw, Detroit, Michigan 48210
In order to understand and appreciate the history of the Kronk Recreation Center, it is important to know something about the man after whom the historic recreation center was named.
John A. (Krõk) Kronk was born on April 19, 1883, in Austrian Poland.  He was the youngest of six children born to Martin and Hedwig (Czajka) Kronk.  The couple's children were Andrew, Jacob, Mary (Swantek), Agnes (Sokolowski), Ann (Oleszkowicz) and, of course, John.  He immigrated with his family to the United States as an infant.
The Kronk family settled on Detroit's west side.  John attended St. Casimir and St. Francis d'Assisi Catholic Schools, as well as St. Mary's Polish seminary, graduating in 1898.
In May 1907, he married Catherine Rosalik, daughter of James and Sophia Rosalik of Detroit.  John and Catherine resided at 3531 Junction.  They had six children:  Anthony, Alphonse, Adam, Mary (Case), Leonard, and Cecilia (Braczyk).
John prospered in the real estate business, started an insurance business, and owned the Overseas Steamship Ticket Agency.  He was the head of Kronk's Four Percent Savings Bank.  Along with his oldest brother Andrew, he also was engaged in the wholesale and retail coal trade under the name of Andrew Kronk & Company.
John's brother Jacob graduated from the Detroit College of Law and managed Wayne County & Home Savings Bank on Junction.  Jacob had a son named Stanley.
In 1919, John A. Kronk became one of the first aldermen serving the City of Detroit (along with John Lodge and James Vernor, among others).  In his third term, he served under the new charter of the City of Detroit.  He was chosen as Chairman of the Board of Supervisors in 1920 and 1921, after which he went on to serve as a city councilman for six more terms.
John further served on the draft board, was a member of the Knights of Columbus, and belonged to the Benevolent Protective Order of Elks and to the Loyal Order of Moose, as well as the Detroit Board of Commerce.
John was highly involved with the West Side Merchants League, Inc.  He wrote the History of the West Side Merchants League, published in 1948.  This organization was formed by a group of Polish-American businessmen and was organized on October 1, 1923.  It existed until approximately 1980.
The West Side Merchant League's purpose was "to aid in making the western section of Greater Detroit as desirable as possible for residence and business purposes; to promote safety, health, education and recreation in the community; and to endorse good government."
In 1948, the league had 235 men as members and had never once held a membership drive.  Its first president was Adam F. Brzezinski.  According to the organization's Constitution, membership in the West Side Merchants League was open to any American of Polish descent, at least twenty-five years of age, and of good character.  John A. Kronk was serving as Secretary on January 8, 1951.
According to John's nephew Stanley, in the early 1920s, John was concerned about the lack of recreation or community facilities in Detroit; hence, what is now the legendary Kronk Recreation Center, built in 1921 at 5555 McGraw near Junction, came to be.  It was opened shortly after World War I.
Inside the red brick neighborhood community center, people from the surrounding area—at one time mostly Polish Americans—could enjoy an array of recreational activities. Dances and bingo games were held regularly.
The center had a swimming pool and tennis courts, and there was a gym in the basement, complete with a boxing ring.
The center was not used only for recreational purposes, however.  It was a full community center.  During the 1950s and 1960s, polio vaccines were administered in three or four large rooms at the Kronk Recreation Center.  As parents brought their youngsters to the center and got closer to where the shots were being given, the sounds of children screaming and crying could be heard.
The shots, which were given in a series of two or three, were extremely painful.  Eventually, a solution was discovered.  To the delight of both children and their parents, a cherry flavored sugar cube containing the vaccine replaced the painful shot.
Up until the 1970s, the neighboring community enjoyed the building for a multitude of recreational and community purposes.  But it was the Golden Gloves—annual amateur boxing competitions—and the resulting prominent boxers who trained at the Kronk gym throughout the years that brought it worldwide recognition.
The center rose to prominence in the early 1970s after a young boxer named Emanuel Steward (July 7, 1944 – October 25, 2012) took on a part-time job as the head coach of the center's boxing program, leading it to a Detroit Golden Gloves championship title.  Steward, originally from West Virginia, moved at 12 years of age with his mother to Detroit.  He had by then already attained a strong love of boxing.
Steward quit his job at Detroit Edison and invested in a cosmetics distribution company to stay afloat so that he could remain focused on coaching at the Kronk gym.  He also promoted musical events.  When his cosmetics distribution company fell on hard times, he turned to selling health and life insurance.  For him, coaching boxing was a labor of love.
Over the next three decades, under Steward's guidance, the Kronk gym produced 50 amateur boxing champions and 30 world champions.  In 1976, Sugar Ray Leonard, who had trained under Steward, went on to earn Olympic gold.
Tommy "The Motor City Cobra" Hearns got his start at Kronk.  In 1977, at 17 years of age, he was nearing his peak as an amateur boxer when Steward took him under his wing. Seeing his potential as a professional boxer, Steward began to groom and train him, and under Steward's leadership and coaching, Hearns went on to win titles in five weight classes.
In the 1980s, Hearns won multiple World Champion titles and was inducted into the Boxing Hall of Fame.  He became known as Thomas "The Hitman" Hearns.
Kronk gym-trained Olympic gold medalists of the 1980s include Mark Breland (1984), Tyrell Biggs (1984), Pernell Whitaker (1984), Frank Tate (1984), and Stevie McCrory (1984).
Steward's legacy is unmatched.  He is considered by many to be "boxing's most acclaimed manager/trainer."
Most important, however, was what the Kronk gym meant to the thousands of neighborhood kids who passed through its doors.  For a teenager living in a rundown part of Detroit in the 1970s and 1980s, the discipline that boxing gave provided an alternative to gang life and a much-needed focus for many.
By the late 1990s, the Kronk gym had stopped producing world champions.  In 1999, however, Emanuel Steward took the time to help create another Kronk gym for kids in Cleveland, Ohio.
The original Kronk Recreation Center closed in 2006 due to budget cuts but was able to reopen in 2015.  Sadly, however, on October 7, 2017, a "suspicious" fire nearly destroyed the building.  The fire obliterated the roof and severely damaged the gym.  Kronk Recreation Center has not reopened since the fire.
A Kronk's gym was established in Tucson, Arizona, in 1996.  There are also Kronk's gym locations in Belfast, Northern Ireland, and in London, England.  The Kronk name lives on.
It is reported that "[t]he Kronk boxers always preferred to train in the hot basement of the Kronk Recreation Center in Detroit."  Something about the "heated, low oxygen surroundings" was believed to have helped with the boxers' weight control and increased stamina, as well as helping to minimize injuries.  "It has been said that the basement gym had a magical aura about it.  Very few fighters have lost when trained at the original gym."
John Kronk died on February 23, 1954, while still in office serving the City of Detroit.  His funeral procession was a mile long and the largest that city officials had ever seen. Approximately 500 people processed to Holy Cross Cemetery, where he was interred.  The Kronk monument is, appropriately, large and majestic.
John Kronk Street in Southwest Detroit was named after John A. Kronk.
Sources:
Gomulka Palazzolo, Laurie A.  "A History of the West Side Merchants League, Inc."  Adapted from "Quarter Century of Progress" by John (Krõk) Kronk.  In "West Side Merchants League Silver Anniversary Brochure—October 20, 1948."  Burton Historical Collection, Detroit Public Library.  Also cited is "Constitution—West Side Merchants League, Inc."  (Detroit:  January 8, 1951).  Burton Historical Collection, Detroit Public Library; and "Our First President 'The Chief.'"  In "West Side Merchants League Silver Anniversary Brochure—October 20, 1948."
Gomulka Palazzolo, Laurie A.  "Major Frank A. (Balcerkiewicz) Balcer (December 9, 1889 – November 26, 1965):  A Born Leader." WSDPAHS Website Text.  From interview with Kathleen Balcer Messner.  (Novi, MI:  May 2015)
https://en.wikipedia.org/wiki.Kronk_Gym
https://kronksports.com/history/
https://findagrave.com/memorial/135056233/john-a_-kronk
Kronk, Stanley.  Interview transcript.  (Southgate, MI:  November 2008)
Michalik, Rev. Gary.  Personal recollections.  (Livonia, MI:  May 13, 2019)