Address: 4500 Wesson, Detroit
Status: Parish Open, Building Still Standing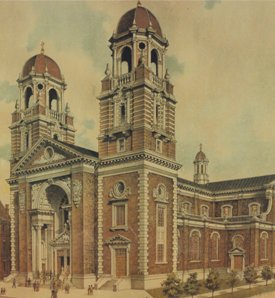 History/Description
In February 1889, a total of twelve lots were purchased; six on Wesson Street at Buchanan and six on Campbell Street at Buchanan. The first structure on the site was built in 1890 and was a combination school, social hall and church. The building was located at the corner of Campbell and Buchanan Streets. This structure cost the parish $35,000 to build and had enough pews to seat 700 people. The first pastor was Fr. Romuald Byzewski who came from St. Casimir. St. Francis became the fifth Polish Parish in Detroit, the second on the West Side. As the parish grew, the original building was not large enough to house the school and the growing congregation. As a result, a decision was made decided to construct a larger worship space.
In 1903, construction began and the corner stone was blessed on the present day Renaissance style church which is located at the corner of Wesson and Buchanan. The structure was designed by Detroit Architects Kastler and Hunter; the cost was approximately $150,000 and was built to seat around 1,700 people. The new church was completed and dedicated on June 4, 1905 by Bishop John Foley. Ten thousand people came to witness the dedication of the new church. On June 4, 1928, St. Francis d' Assisi Church was Consecrated by Bishop Michael J. Gallagher. St. Francis was one of only three churches at the time in the Diocese of Detroit to be consecrated and was only the fifth church in the nation to be consecrated.
Originally, the School was staffed by the Sisters of St. Francis of Milwaukee. By 1901 a group of Polish girls within the community received permission from the bishop to become what is know known as the Sisters of St. Joseph. In 1914, the Original multi-purpose building was demolished to make room for a new school and a convent. Both buildings were completed by 1917, which is when the Sisters changed their headpiece and attire to reflect their new community. They resided and taught at St. Francis until 1987.
Added: December 10, 2009