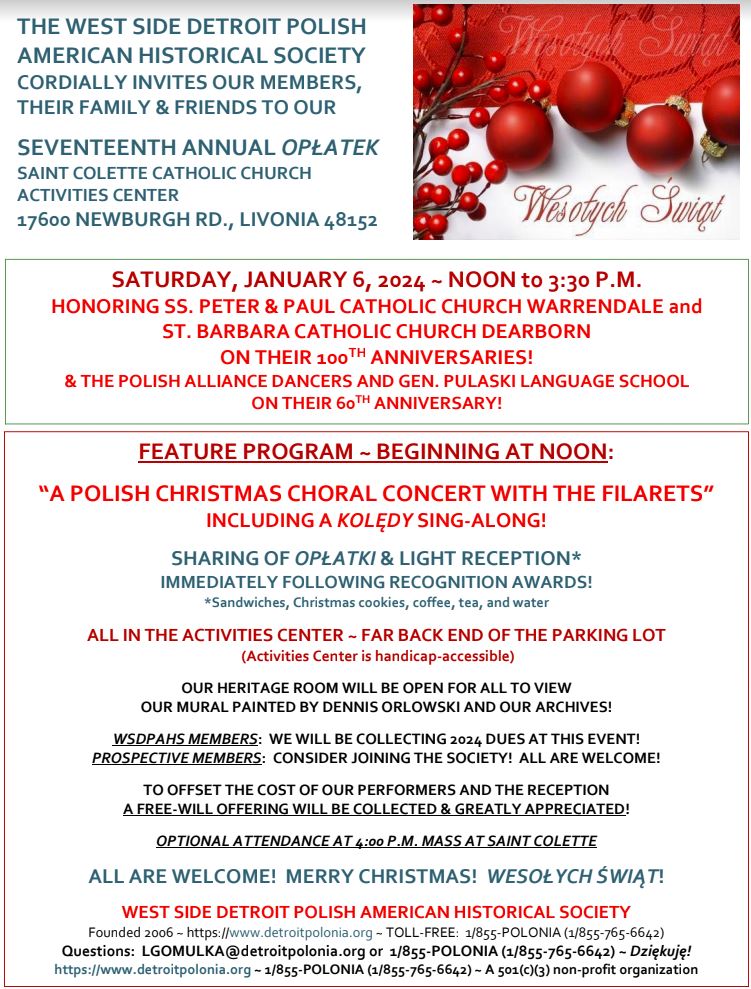 Saturday, January 6, 2024 ~ NOON to 3:30 P.M.
SEVENTEENTH ANNUAL OPŁATEK SAINT COLETTE CATHOLIC CHURCH ACTIVITIES CENTER
17600 NEWBURGH RD., LIVONIA 48152
HONORING SS. PETER & PAUL CATHOLIC CHURCH WARRENDALE and ST. BARBARA CATHOLIC CHURCH DEARBORN ON THEIR 100TH ANNIVERSARIES! and THE POLISH ALLIANCE DANCERS AND GEN. PULASKI LANGUAGE SCHOOL ON THEIR 60TH ANNIVERSARY!
FEATURE PROGRAM ~ BEGINNING AT NOON:
"A POLISH CHRISTMAS CHORAL CONCERT WITH THE FILARETS" INCLUDING A KOLĘDY SING-ALONG!
SHARING OF OPŁATKI & LIGHT RECEPTION* IMMEDIATELY FOLLOWING RECOGNITION AWARDS! *Sandwiches, Christmas cookies, coffee, tea, and water
ALL IN THE ACTIVITIES CENTER ~ FAR BACK END OF THE PARKING LOT (Activities Center is handicap-accessible)
OUR HERITAGE ROOM WILL BE OPEN FOR ALL TO VIEW OUR MURAL PAINTED BY DENNIS ORLOWSKI AND OUR ARCHIVES!
WSDPAHS MEMBERS: WE WILL BE COLLECTING 2024 DUES AT THIS EVENT! PROSPECTIVE MEMBERS: CONSIDER JOINING THE SOCIETY! ALL ARE WELCOME!
TO OFFSET THE COST OF OUR PERFORMERS AND THE RECEPTION A FREE-WILL OFFERING WILL BE COLLECTED & GREATLY APPRECIATED!
OPTIONAL ATTENDANCE AT 4:00 P.M. MASS AT SAINT COLETTE
ALL ARE WELCOME! MERRY CHRISTMAS! WESOŁYCH ŚWIĄT!
WEST SIDE DETROIT POLISH AMERICAN HISTORICAL SOCIETY
Founded 2006 ~ https://www.detroitpolonia.org ~ TOLL-FREE: 1/855-POLONIA (1/855-765-6642)
Questions: LGOMULKA@detroitpolonia.org or 1/855-POLONIA (1/855-765-6642) ~ Dziękuję!