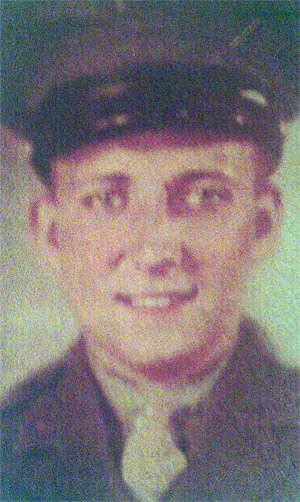 Joe Adamczyk Grocery, 4609 N. Campbell Avenue, Detroit, Michigan 48210
For many years, Joseph C. Adamczyk (January 6, 1920 – April 19, 2011), a former U.S. Marine, owned and operated a grocery store at 4609 N. Campbell Avenue on the west side of Detroit. Looking back, one may remember the many corner grocery stores that dotted the area.  It was an age before plastic credit cards, and many families depended upon the use of penciled entries in their credit books or cards to buy their food.
The store was located on a corner, one block from the St. Francis d'Assisi parish church, separated by the City of Detroit's Szafraniec Park. Down Campbell Avenue was located the parish school. The store was patronized by people living in the area, who stopped in after attending Mass, children coming in at lunch time or after school, or ballplayers who used the diamonds in the park. "Joe" ran his business to serve his community like many of the west side grocers.
Joe retired to Palm Harbor, Florida, after a November 23, 1972, robbery in which his sister Lillian was murdered and Joe was severely wounded and disabled for life.  Joe experienced the same losses that many small merchants on the west side accepted while Marxist judges sat on the benches dispensing a strange form of justice that excused savagery and ignorance at a cost to people like Joe. A World War II Marine, Joe had survived the battles of the South Pacific but fell to the lawless elements that plundered the streets of Detroit's west side.
Joe passed away on April 19, 2011, leaving behind countless loved ones.  The family celebrated Joe's life in a memorial Mass at the Shrine Chapel of Our Lady of Orchard Lake, followed by a dinner. In attendance at the Mass was the Rev. Msgr. Stanley Milewski, Chancellor Emeritus of the Orchard Lake Schools. The family's Polish ties and traditions were affirmed by their choice of Our Lady of Orchard Lake, queen of Poland and our patroness, for remembering Uncle Joe.  The Monsignor's presence was the crowning touch.
Joe received full military honors with the August 2011 interment of his cremated remains at Arlington National Cemetery.
We hope those who knew Joe will remember him in their prayers and pay him a respectful visit at Arlington National Cemetery. He earned the love of many and the respect of the nation he served while in arms.
The Society is grateful to our member, Jerome Pikulinski, nephew of Joseph C. Adamczyk, for the submission of this entry and the photo of "Grocer Joe."