Address: 3500 Gilbert, Detroit
Status: Active, Business Open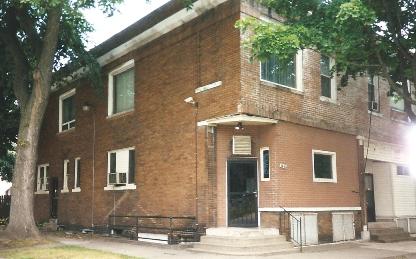 History/Description
The Abick's building was constructed in approximately 1908 by John Benske, Manya Abick Soviak's godfather and uncle. Manya and her brother, Walter Abick, are the current owners.
Manya was born on October 4, 1923, and Walter was born on February 1, 1921. Their parents were George and Katarina (Kathryn) Urda Abick. Kathryn was born on February 18, 1900. George was an immigrant from Prague, and Kathryn was from Austria, Wierschowna-mala. Manya and Walter's uncle, Joseph (George's brother), emigrated in about 1910, and George and Kathryn came right after that, in around 1913 or 1914. Joseph lived on Gilbert Street and the 1929 City Directory lists George as living at 3500 Gilbert, the address of the bar. The 1910 U.S. Census in Detroit lists Austrian Poland (Galicia) as the place of origin.*
John Benske's wife was Kathryn's first cousin. All the relatives were very close, according to Manya. George came to work in the bar.
Joe Abick lived only a half block away, according to Manya, and then he moved to Hamtramck and opened a little grocery store on Playfair Street. John Benske built and owned the house next door to the bar and lived there. He also built the house next to it and the one next to that. The addresses are 3490 and 3484. He rented the houses out.
John and Walter were very involved in politics. They both ran for office but eventually got jobs in the courts as court officers.
George Abick died in 1935 at age 49, and Kathryn raised her four children, Manya and her three brothers. Manya started working in the bar at about age 18. During World War II, some of the main industries in the area were Central Creamery, Federal Screw Works, Kelsey-Hayes, and Goebel's Beer on 52nd. The railroad was also one of the primary industries in the area, as well as the Hammond Coal Yard and the coal yard on Military.
Abick's had many regular patrons in those days. There were many parties at the bar, and a band of young men in their late teens performed there. There were never any problems in the bar, such as brawls. Everyone had a good time at Abick's.
When asked what people today like about Abick's, the answers are all the same: the atmosphere – it's warm and friendly, like home. Many compare it to the old TV sitcom Cheers. Some say that Manya is like a second mom. It's a fun place to hang out.
Manya Abick has seen a lot of people come and go throughout the years, and she describes all of them as good people.
*Census and immigration information courtesy of Ceil Wendt Jensen, Certified Genealogist, Michigan Polonia
Added: May 12, 2010