Address: 3401 Twenty-Third Street, Detroit
Status: Parish Closed, Building pictured above, demolished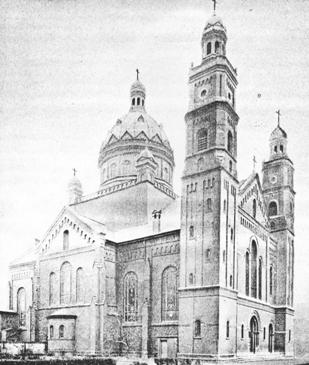 History/Description
Historic St. Casimir Catholic Church, located at 3401 Twenty-Third Street in Detroit and founded in 1882, was the first Polish parish located on Detroit's west side. A temporary church was first built, followed by a permanent building along with appropriate homes for the clergy and teachers. The church building was built in 1883. The permanent parish church structure was modeled after St. Peter's Basilica in Rome. Construction was begun in 1889 and completed in 1890 at a cost of $126,000. The parish closed in 1989.
St. Casimir's first pastor was the Rev. Paul Gutowski and the last pastor was the Rev. Eugene Wojtowicz. In 1985, there were 300 families in the parish, and there was an English Mass held on Saturdays at 4 p.m. and on Sundays at 10 a.m. The percentage of families of Polish descent was 50 percent at that time. There were two festivals held, one in the spring and another in the fall. As of 1985, the parish had an elementary school with 190 registered students.
The current church building, a new structure that was built to replace the original structure-torn down many years ago for safety reasons-is now occupied by an African-American congregation. The parish church building that was modeled after St. Peter's Basilica had an exact duplicate in Chicago, that of the Polish Church of St. Mary of Perpetual Help.
Source: http://creativegene.blogspot.com/2010/10/polish-catholic-churches-of-detroit-st_02.html