Address: 5771 Otis, Detroit
Status: Forthcoming
History/Description: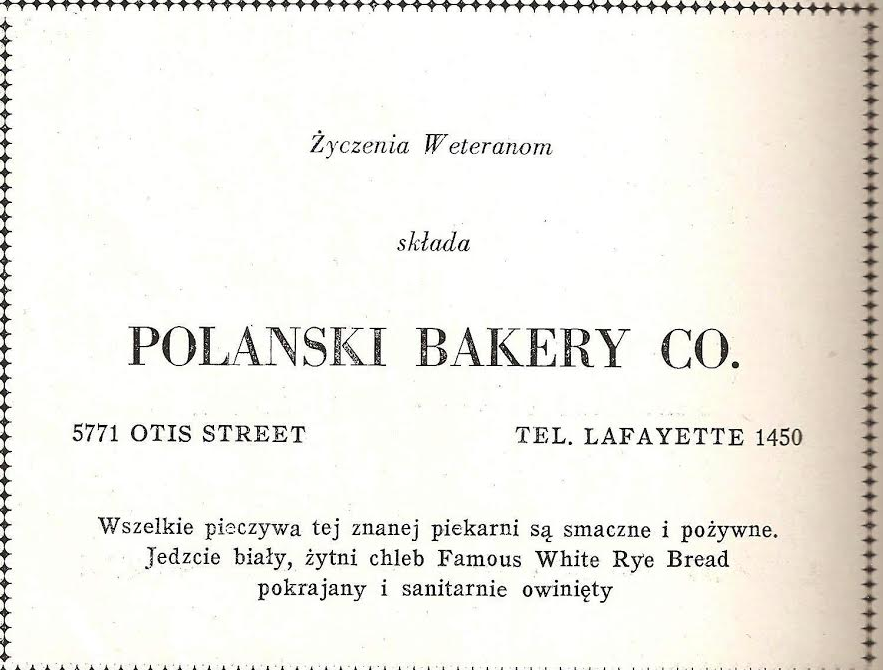 How the time goes by fast
Maybe in a year, a day, a minute we may not be together
In a young age the time goes by fast, but in our hearts
We are wishing you were here
We will have sorrow in our hearts. We will miss you
We will have sorrow in our hearts
So begins the history of Frank Polanski, Sr., founder of the Polanski Bakery at 5771 Otis Street (as translated by Mary Urbanczyk, aunt of Terri Mistor Polanski, from a Polish language article).
Francis ("Frank") Polanski, Sr., was the son of John and Katherine Polanski, who were from the village of Kety, a suburb of Krakow. Francis was baptized in Kety on December 10, 1889.
John and Katherine had a hard life in Kety, and young Frank was eighteen years old when he came to America on May 27, 1907. He made a living in Detroit. It was hard for him the first year in a strange country. He worked by picking up cement and wood, which was very hard labor.
Then he opened up a small bakery at 5771 Otis Street, south of Michigan Ave. and east of Livernois, in 1909 with a partner, Paul Marchewka. The bakery was called Polanski Bakery. They worked long hours and the pay was meager. But they made up their minds to work hard-twenty hours a day. The partnership didn't last very long. Frank worked by himself after the partnership ended.
He met a young lady, Maria, daughter of Boniface and Bernice Machowicz. They courted and were wed on October 24, 1911.
Both Frank and Maria worked hard in the bakery, and then God blessed them with four daughters and three sons. When the children grew up they helped their parents after school. Frank lost his beloved Maria in October 1955.
Losing Maria was very hard on Frank. It took a long time to get over her but he finally got a smile on his face. After Maria passed away, he found happiness with his grandchildren (sixteen of them).
The bakery name changed from Polanski Bakery to Dalee Baking Co. in 1936, but it still belonged to the Polanski family and remained at the same location. (Sometime around the 1970s, the bakery name would become Rosen's.) After forty-eight years, the bakery expanded. When they baked bread they put loaves of it on trays, which saved lots of work. With this automatic operation using fifteen trays they were able to bake five times more bread, but the work was hard. The stoves were first coal-fired and then changed to gas
The bakery was a good business. They didn't make a million dollars but they kept working.
Frank worked hard to build the business, sharing everything with his family and never refusing his help to anyone in need. He was a good donor to St. Hedwig Catholic Church.
Frank belonged to many organizations, including the Z.N.P. (Polish National Alliance), Z.P.R.K. (Polish Roman Catholic Union), the Optimists, and many others. He was director of the Dom Polski on Junction from 1927 to 1928. His bakery was always open to the hungry people during the Depression, and there were lots of people in the bread line.
Frank worked hard but didn't make a million dollars like other businesses. He helped people who were out of work and built a good reputation in rich America.
He was good and honest in America as the family was in the Old Country, always helping people because he couldn't see people go hungry. Everybody knew him as a good man, and all loved him.
Those at the Dom Polski who remembered Frank had good thoughts about him.
(Adapted from a history by Mary Urbanczyk, aunt of Terri Mistor Polanski, who translated it from a Polish language article)