The West Side Detroit Polish American Historical Society Cordially Invites Our Members, Family, And Friends To Our Tenth Annual All Saints'/All Souls' Pilgrimage, Prayer Service And Wypominki (Naming)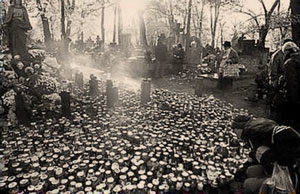 SATURDAY, OCTOBER 27, 2018
BEGINNING AT 11:00 AM
ST. HEDWIG CEMETERY
23755 Military Rd., Dearborn Hts., MI 48127
BEGINNING AT 11:00 A.M. IN THE ALCOVE OF THE MAUSOLEUM

Prayer Service With Society President Rev. Gary Michalik And Society Director Rev. Canon Walter J. Ptak
SPECIAL PRESENTATION ON GENERAL JÓZEF HALLER'S ARMY (THE BLUE ARMY) IN COMMEMORATION OF THE 100TH ANNIVERSARY OF THE END OF WWI
AND OF THE REPUBLIC OF POLAND
SPECIAL GUEST PRESENTER: MS. HENRIETTA NOWAKOWSKI
"MY FATHER WAS A HALLERCZYK" & COMMENTARY BY MEMBER MARY BARTUS-SIDICK
PROCESSION TO GRAVE MARKERS OF SOME PROMINENT INDIVIDUALS & LIGHTING OF
REMEMBRANCE CANDLES; INDIVIDUAL PROCESSION TO FAMILY GRAVES UNTIL 1:00 P.M.
Please Bring A List Of Those Departed For Whom You Wish To Pray. At A Specified Time, All Will Be Asked To Read Aloud The Names Of Their Loved Ones Being Remembered On This Day.  We Will Also Remember All Departed Society Members.
Cemetery And Chapel Wheelchair-Accessible ~ Free Admission To Prayer Service
Donations Gratefully Accepted ~ All Are Welcome!
Optional Banquet Luncheon At DELUCA'S RESTAURANT
27424 Warren Ave. (corner of Inkster Rd.), Westland, MI 48185 ~ 1:30 – 3:30 P.M.
$20.00 Members* ~ $23.00 Non-Members (Includes Gratuity). Banquet Luncheon Includes Choice Of Roasted Chicken, Baked Or Fried Cod, Or Roast Beef (Chosen At Table); Mashed Potatoes; Tossed Salad; And Coffee, Tea, And Soft Drinks. Optional Cash Bar Paid Individually ~ *Paid Wsdpahs Members As Of February 1, 2018 (No Exceptions)