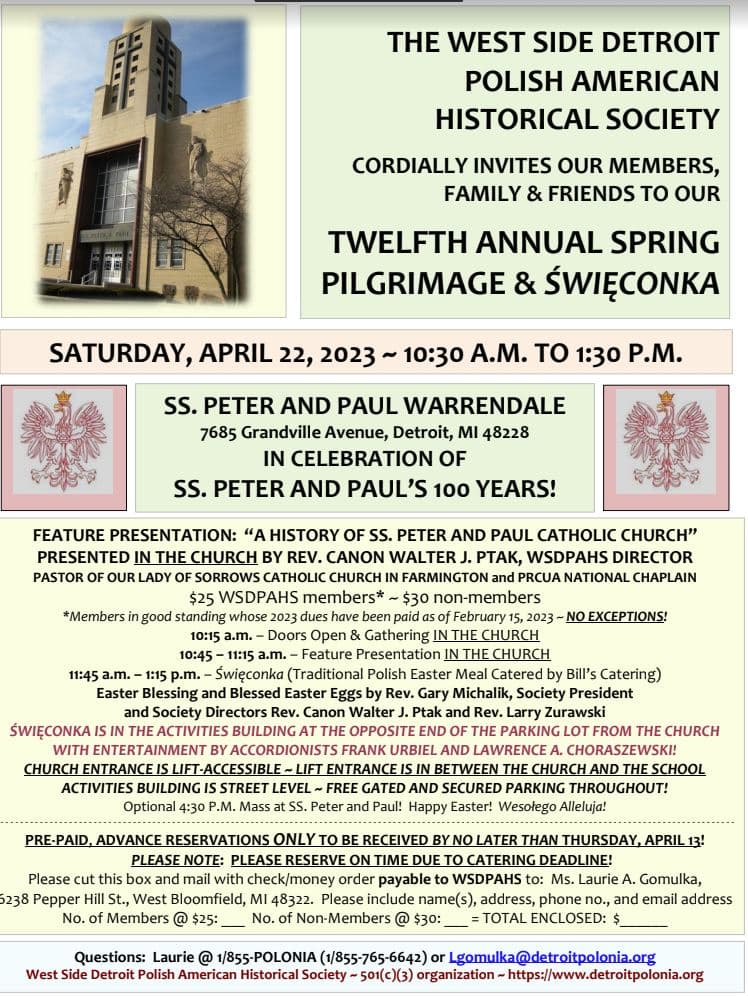 FEATURE PRESENTATION:  "A HISTORY OF SS. PETER AND PAUL CATHOLIC CHURCH" PRESENTED IN THE CHURCH BY REV. CANON WALTER J. PTAK, WSDPAHS DIRECTOR PASTOR OF OUR LADY OF SORROWS CATHOLIC CHURCH IN FARMINGTON and PRCUA NATIONAL CHAPLAIN
$25 WSDPAHS members* ~ $30 non-members
*Members in good standing whose 2023 dues have been paid as of February 15, 2023 ~ NO EXCEPTIONS!
10:15 a.m. – Doors Open & Gathering IN THE CHURCH
10:45 – 11:15 a.m. – Feature Presentation IN THE CHURCH
11:45 a.m. – 1:15 p.m. – Święconka (Traditional Polish Easter Meal Catered by Bill's Catering)
Easter Blessing and Blessed Easter Eggs by Rev. Gary Michalik, Society President and Society Directors Rev. Canon Walter J. Ptak and Rev. Larry Zurawski
ŚWIĘCONKA IS IN THE ACTIVITIES BUILDING AT THE OPPOSITE END OF THE PARKING LOT FROM THE CHURCH WITH ENTERTAINMENT BY ACCORDIONISTS FRANK URBIEL AND LAWRENCE A. CHORASZEWSKI! CHURCH ENTRANCE IS LIFT-ACCESSIBLE ~ LIFT ENTRANCE IS IN BETWEEN THE CHURCH AND THE SCHOOL ACTIVITIES BUILDING IS STREET LEVEL ~ FREE GATED AND SECURED PARKING THROUGHOUT!
Optional 4:30 P.M. Mass at SS. Peter and Paul!  Happy Easter!  Wesołego Alleluja!