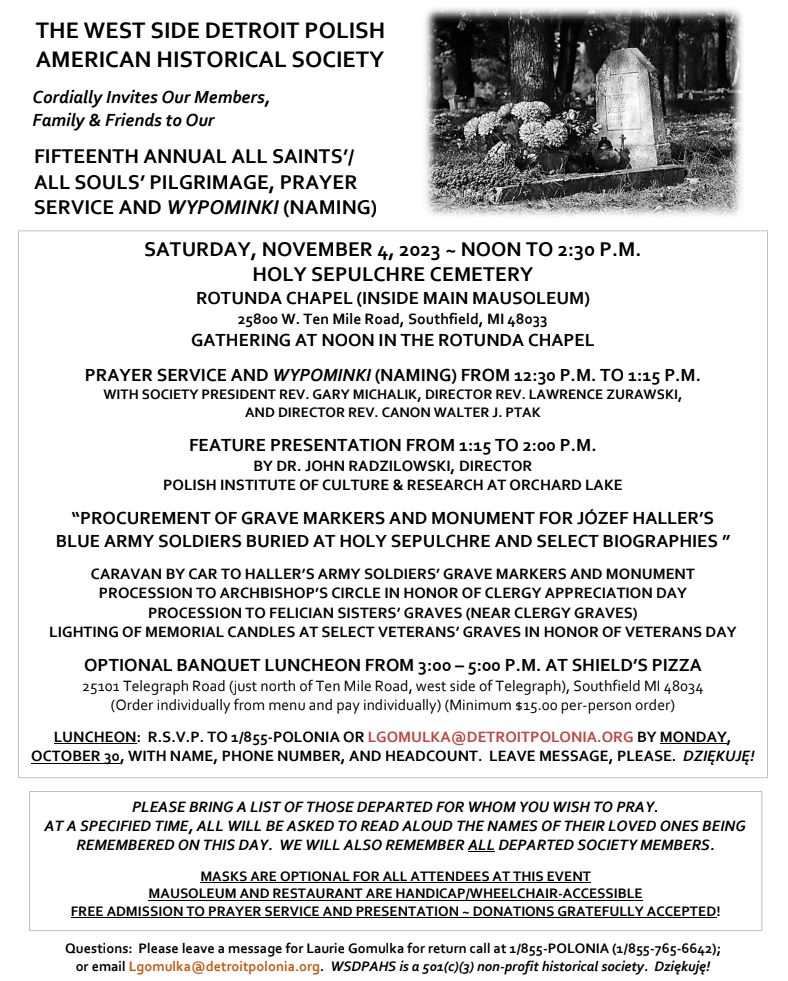 Join us November 4, 2023 for the Fifteenth Annual All Saints'/All Souls' Pilgrimage, Prayer Service & Wypominki (Naming): Holy Sepulchre Cemetery, Rotunda Chapel (inside Main Mausoleum): 12:00 p.m. – 2:30 p.m. Gathering at 12:00 p.m.; Prayer Service beginning at 12:30 p.m. Feature Presentation at 1:15 p.m. by Dr. John Radzilowski, Director, Polish Institute of Culture & Research, Orchard Lake: "Procurement of Grave Markers for General Haller's Blue Army Buried at Holy Sepulchre." Prayer Service led by Rev. Gary Michalik, Rev. Canon Walter J. Ptak, and Rev. Lawrence Zurawski.
SATURDAY, NOVEMBER 4, 2023 ~ NOON TO 2:30 P.M.
HOLY SEPULCHRE CEMETERY
ROTUNDA CHAPEL (INSIDE MAIN MAUSOLEUM)
25800 W. Ten Mile Road, Southfield, MI 48033
GATHERING AT NOON IN THE ROTUNDA CHAPEL
Wypominki: Please bring list of names of those for whom you would like to pray. Remembrance of all departed Society members. Caravan to Haller's Army grave markers and monument. In honor of Clergy Appreciation Month, procession to Archbishop's Circle and visitation of graves of bishops, priests, and deacons. Procession to graves of Felician Sisters. Lighting of remembrance candles in honor of Veterans Day. Optional banquet luncheon from 3:00 to 5:00 p.m. at Shield's Pizza, 25101 Telegraph Road (just north of Ten Mile on the west side of Telegraph), Southfield.
Order from menu and pay individually; minimum $15.00 per-person order. R.S.V.P. by no later than Monday, October 30, to Laurie at LGomulka@detroitpolonia.org or 855/765-6642 (855-POLONIA) with name, phone number, and number of attendees.