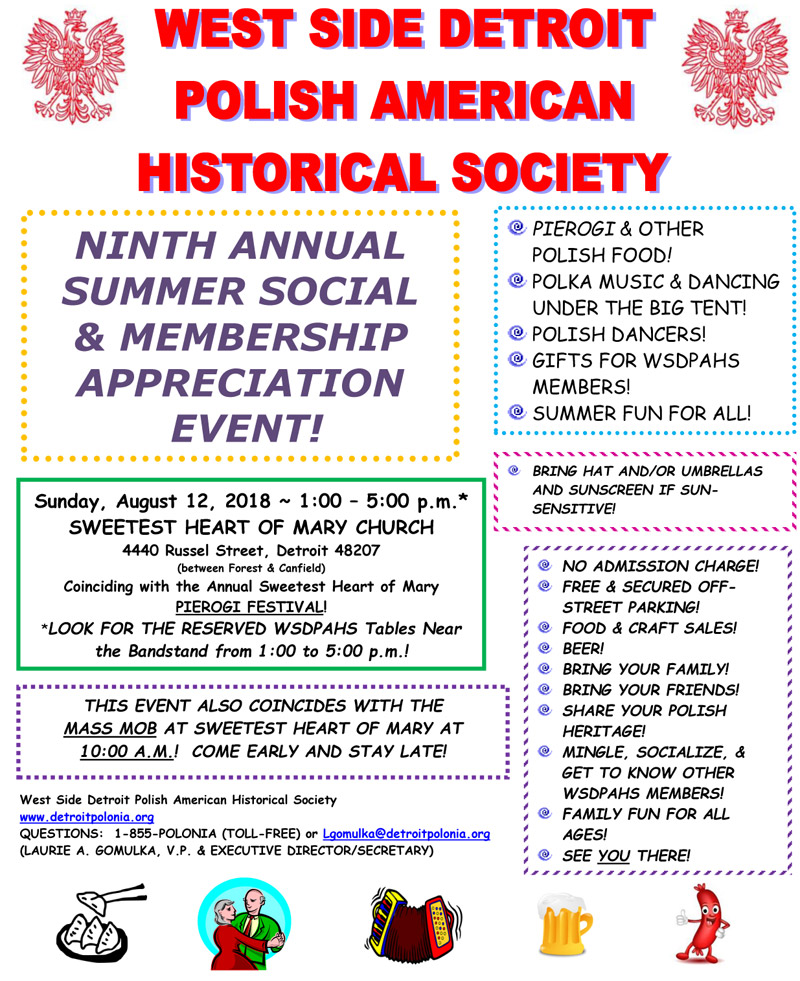 Sunday, August 12, 2018 ~ 1:00 – 5:00 p.m.*
SWEETEST HEART OF MARY CHURCH
4440 Russel Street, Detroit 48207
(between Forest & Canfield)
Coinciding with the Annual Sweetest Heart of Mary
PIEROGI FESTIVAL!
*LOOK FOR THE RESERVED WSDPAHS Tables Near the Bandstand from 1:00 to 5:00 p.m.!
PIEROGI & OTHER POLISH FOOD!
POLKA MUSIC & DANCING UNDER THE BIG TENT!
POLISH DANCERS!
GIFTS FOR WSDPAHS MEMBERS!
SUMMER FUN FOR ALL!
BRING HAT AND/OR UMBRELLAS AND SUNSCREEN IF SUN-SENSITIVE!
THIS EVENT ALSO COINCIDES WITH THE MASS MOB AT SWEETEST HEART OF MARY AT
10:00 A.M.!  COME EARLY AND STAY LATE!
NO ADMISSION CHARGE!
FREE & SECURED OFF-STREET PARKING!
FOOD & CRAFT SALES!
BEER!
BRING YOUR FAMILY!
BRING YOUR FRIENDS!
SHARE YOUR POLISH HERITAGE!
MINGLE, SOCIALIZE, & GET TO KNOW OTHER WSDPAHS MEMBERS!
FAMILY FUN FOR ALL AGES!
SEE YOU THERE!