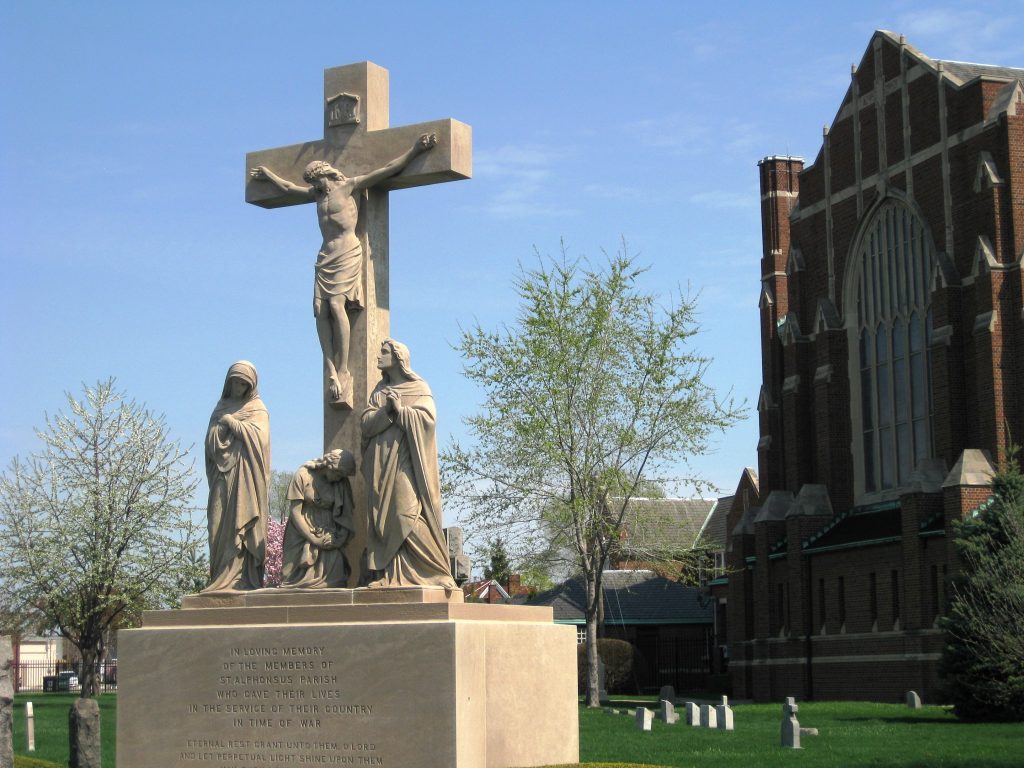 The Society's third annual west side Detroit historic Polish church pilgrimage and Święconka was held on Saturday, April 10, and once again we were blessed with glorious weather and a great turnout! Last year, over 150 signed up for the event, and we had just over 100 this year, including a busload from Marine City, thanks to the recruiting efforts of member Loretta Zamborowski! In past years, the event has drawn pilgrims from as far away as Lapeer, Monroe, Taylor, White Lake, Wyandotte, Sterling Heights, Warren, and even Chicago, Illinois.
We began our pilgrimage this year at 10 a.m. at Ss. Peter and Paul Catholic Church at 7685 Grandville, formed on September 5, 1923, in Detroit's Warrendale District. Society director Rev. Gary Michalik gave a very interesting history of the parish, which was lavishly decorated for the Easter season. As is traditional in Polish Catholic churches, Ss. Peter and Paul contained an empty tomb depicting the risen Christ. The church's music director, Mr. Johnny Kash, led the pilgrims in the singing of one Polish and one English Easter hymn.
From there we moved on to St. Alphonsus Catholic Church at 7455 Calhoun in Dearborn, founded in 1852 on the farmland of Peter Joseph Esper and his wife, Catherine Theisen Esper, who donated the land for the purpose of building a church and a school to educate children in the Catholic faith. The history of St. Alphonsus was presented by Ms. Lori Katona, church historian. The farmland that was donated for the formation of the church belonged to her great-great grandparents. Ms. Katona also wrote and published a booklet entitled "A Guide to St. Alphonsus Church – Dearborn, Michigan: The Statues, Paintings and Stained Glass Windows – Art and Architecture Details," a copy of which was purchased and donated to the Society's archives.
A cemetery alongside the first church extended westward into the present Schaefer highway, which did not extend north of Warren. In 1876, the whole cemetery was moved to its present site to make room for the extension of Schaefer Road. Many of the Esper family are interred at the cemetery, which contains over 250 graves. Other notable burials include priests of the church: Rev. George Godez, Monsignor William Schulte, Monsignor Bernard Kearns, and the maternal grandfather of Henry Ford – Patrick O'Herin.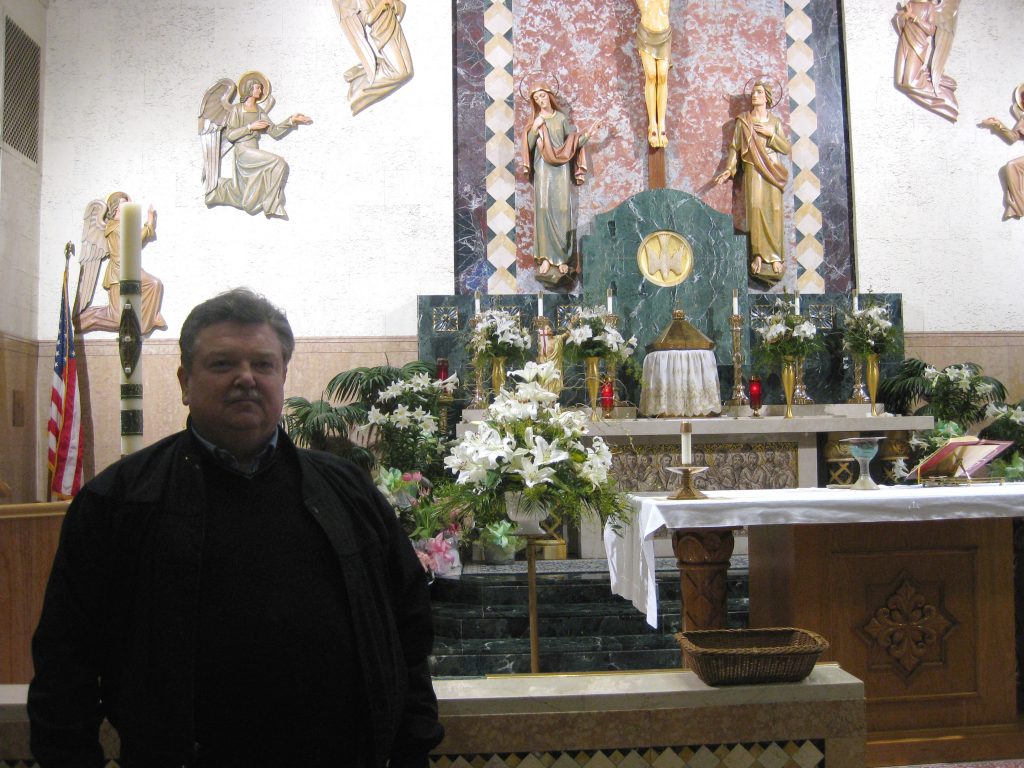 While not a traditional Polish parish, and while it was established by German and Irish settlers, St. Alphonsus has significance to Polonia because as Polish Americans began to settle in the area, they began attending the church. As we learned after departing and moving on to St. Barbara Catholic Church, where Rev. Michalik gave a historical presentation, at the time of St. Barbara's birth, this portion of the City was a tranquil village known as Springwells. There were 40 Polish-American families who had settled in the area who were in search of a place of worship and to practice their Roman Catholic faith. The only other Catholic church in the district was St. Alphonsus, which had been established over 50 years before. The religious education of these Polish-American families was of vital concern.
Our Święconka was held at the newly renovated Fr. Patrick O'Kelley Knights of Columbus Banquet Hall on Park (Michigan Avenue and Outer Drive) in Dearborn. A beautiful terrarium was donated by WSDPAHS Director Richard Sokolowski and given away to a lucky winner in a name draw. The traditional Święconka menu included blessed eggs (jajko poswiecony), kiełbasa and ham, potato salad, beet horseradish (chrzan), bread, butter lambs, dessert (variety of cakes, or babkas), and beverages. WSDPAHS member Sr. M. Patricia Pyszynski, C.S.S.F., blessed our eggs and other food, and all present raved about the meal, which was prepared by O'Kelley's own Veronica along with her crew.
St. Barbara's music director, Mr. Kazimierz Jędralczyk, graciously offered to bring his keyboard along and to provide musical accompaniment at the luncheon. To commemorate the tragic deaths of the President and First Lady of Poland and the other Polish leaders and dignitaries that occurred earlier that morning, Mr. Jędralczyk led the pilgrims as we sang, "Jesus, remember me, when you come into your kingdom" three times, and he then proceeded to perform a few other religious pieces and some additional music.
Coach service was once again provided by Trinity Coach of Wyandotte. We arrived back at Ss. Peter & Paul at about 3:30 p.m. Optional and Mass was offered at each of the churches visited.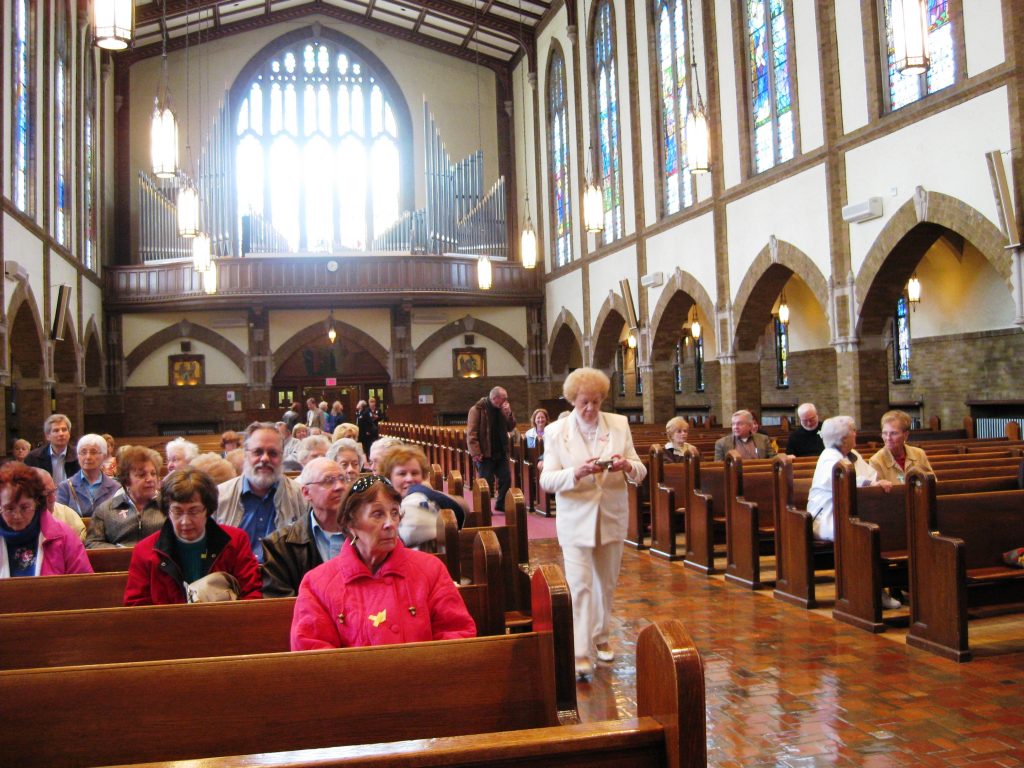 We thank all those who helped to make this year's pilgrimage a success, including Rev. Stanislaus Tokarski, Pastor of Ss. Peter and Paul, Rev. David Lesniak, Pastor of St. Alphonsus, and Rev. Zbigniew Grankowski, Pastor of St. Barbara, and their staffs, for graciously hosting us; Mr. Johnny Kash, musical director of Ss. Peter and Paul, and Mr. Kazimierz Jędralczyk, musical director of St. Barbara, for the gift of their music; Rev. Gary Michalik and Ms. Lori Katona, our historical presenters; WSDPAHS Treasurer, Mr. Bob Bielenda, and Mrs. Eleanor Bielenda, who arrived at the banquet hall early to help with table set-up; Ms. Pamela Rupinski for leading the rosary; Ms. Aleksandra Porter, Ms. Pamela Rupinski, and Mr. Leonard Skowronski, who helped with registration; the staff of O'Kelley K of C for their wonderful service and hospitality; Trinity Coach of Wyandotte; and all others who gave of their time and helped to make this event the success that it was.
We look forward to next year's pilgrimage!