SUMMER SOLSTICE FESTIVAL & WIANKI ON JUNE 21
WEST SIDE DETROIT POLISH AMERICAN HISTORICAL SOCIETY CELEBRATED THE LONGEST
DAY OF THE YEAR WITH ITS SUMMER SOLSTICE FESTIVAL & WIANKI ON JUNE 21!
By Laurie A. Gomulka
Photos by Laurie A. Gomulka, Lawrence A. Choraszewski, Eddie Siwiec,
and Tim and Pat Rothermel (Rothermel Photography)
The American Legion Post 346 in Farmington was a hot gathering place on Saturday night, June 21, as the West Side Detroit Polish American Historical Society held its Sixth Annual Summer Social Event and its first ever Summer Solstice Festival & Wianki. Many ladies and young girls designed, created, and wore their original wianki (wreaths). The white tablecloth on each table was highlighted in its center with a hand-made wianek (wreath) made by Laurie A. Gomulka, Pat Rothermel, Mary Kay Gromala, and Larry Choraszewski, with flowers donated by Society member Gene Zmuda, accented in its center by a gold candlestick with a glimmering "flame," courtesy of the Polka Booster Club of America.
The evening began at 5 p.m. with a Polish picnic-style dinner grilled outdoors by master chef John Cortez and served in the hall until 7 p.m., when Darrell Weltin's New Brass Express polka band from Bad Axe, Michigan, set the dance floor on fire!
Laurie A. Gomulka, Vice President & Executive Director/Secretary of the Society, first gave an introduction stating that as Polonia's organizations work to remain vital she was reminded of the words of the late Henry Ford, who was not Polish, but who employed a great number of Polish Americans. Through her work with Madonna University, Laurie learned some of Ford's words of wisdom. Ford said that struggling organizations do not ask "why" in times of crisis, but rather "what"-they ask what we can do about a particular situation rather than why it is occurring. Henry Ford also said, "Coming together is a beginning. Keeping together is progress. Working together is success." She thanked all who came together to help make this night a success.
On that note, Ms. Gomulka introduced the evening's three honorees. Representing the Michigan State University Polish Club was Ms. Ania Bieciuk. Representing the Wayne State University Slavic Klub was Ms. Dina Mhanna. And representing the University of Michigan Polish Student Association was Mr. Daniel Popiel. These three fine young university students, Ms. Gomulka said, were remarkable individuals who gave us hope and inspiration. They were Polonia's future.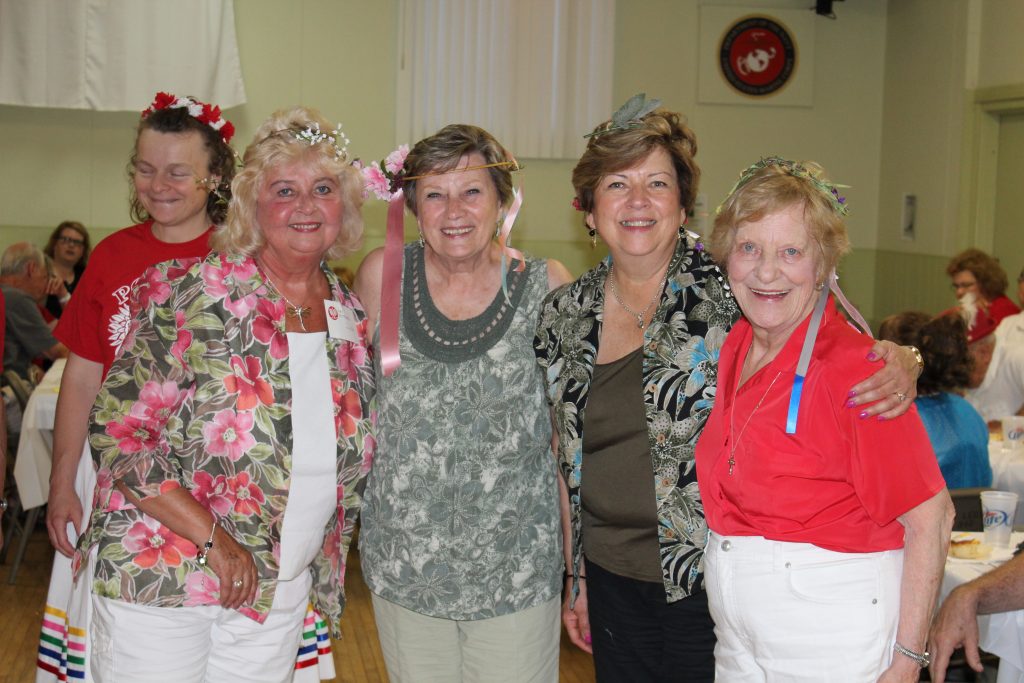 Ms. Ania Bieciuk is a graduate of James Madison College at Michigan State University (MSU). She holds a B.A. in Comparative Cultures and Politics and a specialization in Russia and Eastern Europe. In 2009, Ania became the Founder and Chair of MSU's Polish Club. In an effort to share her culture and heritage, Ania invited students and community members from the greater Lansing area to join. Club members celebrated holidays and participated in Polish language groups. While learning about Poland's traditions they also created their own, namely, painting The Rock near the Red Cedar, painting pisanki, and celebrating Andrzejki. Today, Ania works in the Executive Office of Governor Rick Snyder. She also serves as the Vice President of the Polish American Chamber of Commerce Michigan and as a Junior Board Member of the Polish American Leadership Political Action Committee (PAL-PAC), which concerns itself with all issues currently affecting the youth of Polonia in the USA.
Ms. Dina Mhanna is a 20-year-old, full time student at Wayne State University, studying criminal justice and anthropology. Born and raised in Kiev, Ukraine, she and her family came to the U.S. when she was eight years old, and Dina has been living in Dearborn, Michigan, ever since. She became President of the Wayne State University Slavic Klub because it was the ideal position for her. As such, she is able to be a part of a close-knit community as well as set up different events for all the Klub's members.
Mr. Daniel Popiel is the Vice President of the University of Michigan Polish Student Association. He is currently working for Chrysler while finishing his degree in Electrical Engineering. Daniel is also on the Junior Board of the Polish American Leadership Polish Action Committee (PAL-PAC), which concerns itself with all issues currently affecting the youth of Polonia in the USA.
On campus, Daniel was elected to represent the College of Engineering in the Central Student Government and has been a member and served on the executive board of the Institute of Electrical and Electronic Engineers (IEEE).
Daniel stated, "My favorite part about being part of the Polish Student Association at Michigan is aiding our members who are 3rd or 4th generation in becoming reacquainted with their Polish culture, something I took for granted growing up. The Polish Student Association also provides opportunities for members to immerse themselves in the Polish culture. Each summer a number of our members travel to Poland to study the Polish language or complete an internship."
As can be seen from their brief biographies, these three fine students who came to the event to represent their respective university organizations are wonderful role models, not just to Polonia's youth but also to young people everywhere. They were a delight to meet and to talk with. They enthusiastically agreed to judge our wianki participants as they vied for the title of Wianki Queen 2014! The Society looks forward to fostering a closer relationship with these students and their respective organizations and we wholeheartedly support them in all their efforts and as they continue their education and work. They do us all proud!
The first highlight of the evening came when Ms. Gomulka, assisted by committee member Ms. Sandy Boland, presented certificates of appreciation and recognition on behalf of the Society to the three student organizations, which were accepted by Ania, Dina, and Daniel.
There were games and drawings for prizes during the band's intermissions. Three lucky grand prize winners walked away with gift cards to local restaurants. Also, three fortunate attendees won share-the-wealth prizes, and there were many other prizes as well.
The next highlight of the evening occurred with the Parade of Wianki and judging by Ania, Dina, and Daniel. This was not an easy task! The judges were given the judging criteria: originality, creativity, and personal style. There were many unique and unusual wianek creations, some containing original accents from participants' gardens, such as herbs that traditionally were used in Poland to create a wianek. Those seven herbs are mugwort (bylica), sundew( rosiczka), phlox (płomyk), mullein (dziewanna), rue (ruta), sage (szałwia) and St. John's wort (dziurawiec). Alas, only one winner could be chosen, and after careful study of each wianek and thoughtful deliberation, the distinguished panel of judges named their winner: Ms. Debbie Glen of Livonia! The judges selected Ms. Glen's wianek as the winner because of the uniqueness of her design and flower selection, the careful and artful method she used in fashioning it, and the selection of flowers she chose, which matched her outfit.
Mr. Syl Wienclaw, Honorary Member of the Society and Master of Ceremonies, was given a crown by Society member and committee member Mr. Larry Choraszewski. Syl then crowned our new queen with a glimmering tiara. She also was given a shimmering heart gemstone and "diamond" ring, a baton, a wand, and a sash reading "Wianki Queen 2014." Then, to the polonaise music by Wojciech Kilar from the film Pan Tadeusz, Syl led our new queen in a grand procession around the dance floor, in which all wianki contestants followed. Afterwards, our queen was seated on her "throne" and the entire crowd of attendees joined the band in honoring her by singing the "Wianki Queen" song, written by Laurie A. Gomulka. What a glorious night!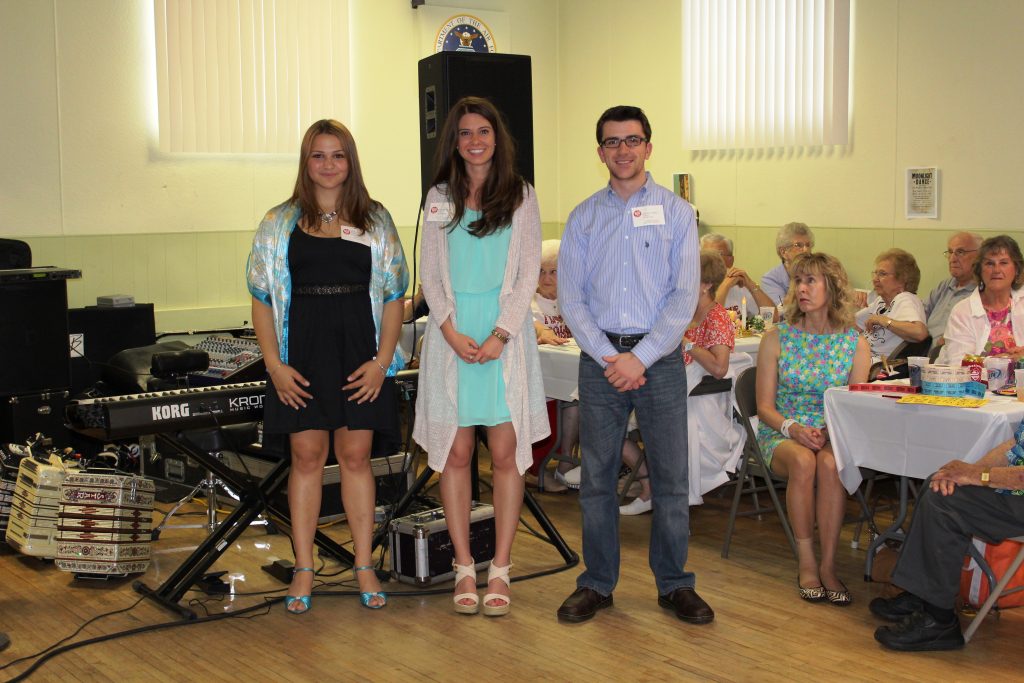 Music and dancing to the New Brass Express continued until 11 p.m. Everyone had a fabulous time, as could be seen by their faces!
In Krakow, the Summer Solstice is one of the biggest and longest of festivals, featuring bands and fireworks. Wianki are set on fire and floated on the Vistula River. The festival is tied closely to the Feast of St. John (June 24), and many beliefs are associated with this night. One such belief is that the Eve of St. John (June 23) is the only night on which ferns bloom. It is also believed that healing takes place on this night by the aid of herbs that have magical powers.
All those present at this event experienced a bit of magic. They had an opportunity to meet three remarkable young people and in doing so all present showed their support for Polish youth. It was the longest day of the year and a night that will be remembered for a long, long time.
The Society is grateful to all our sponsors and the donors who helped make this night possible, whose names appear elsewhere on our website. Special thanks to Larry Choraszewski, Tim and Pat Rothermel, and Richard Sokolowski, who worked hard to set up and clean up the hall and to all those who helped out at the event. We couldn't have done it without you.