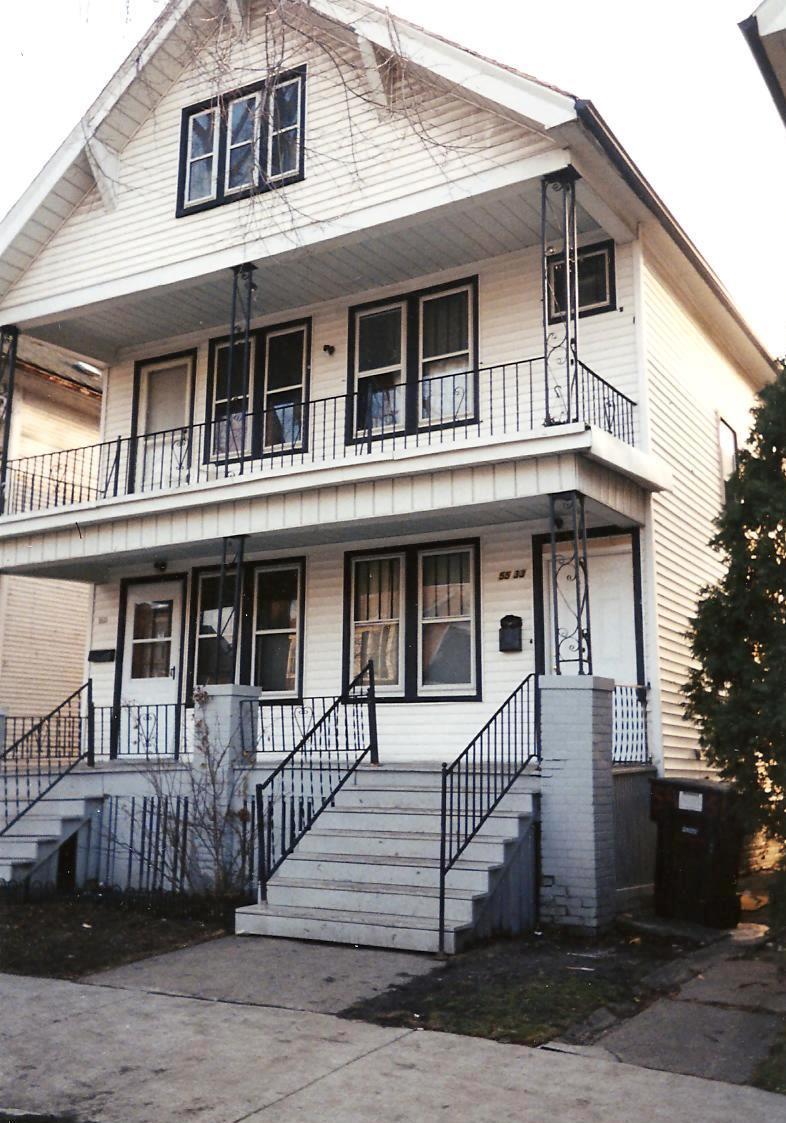 5533 Chopin, Detroit 48210: Childhood Home of West Side Detroit Polish American Historical Society Founding President Stanley ("Staś") Wiśniach's
The West Side Detroit Polish American Historical Society's Founding President, Stanley ("Staś") John Wiśniach (1923-2007), was born on the west side of Detroit on May 23, 1923, at 2:30 a.m., above a grocery store. The store later became a beer garden. Translated, the Polish word Wiśniach means "cherry." Staś's father, Wladyslaw (Walter) Wisniach (1895-1985), was one of six children born in Poland in a small township near Łódź. His mother, Pearl (Błachnia) Wisniach (1905-1988), was born in Michigan City, Indiana.
Walter immigrated to the Lansing, Michigan, area and began work as a laborer in a gravel pit. Before Staś was born, both Walter and Pearl settled in Detroit, where Walter found work with the Ford Motor Company. After attending the Henry Ford Trade School, Walter was promoted to the position of die setter, a very good position at the time.
Walter was an intelligent, well-read man. He went to night school to learn English. He educated himself about many things, including investing in the stock market, and he made wise choices in this regard. He had an indomitable spirit and persevering attitude, and he was intensely driven.
Walter and Pearl went "off rent" and purchased a large, four-family dwelling in Dearborn. Pearl was just 18 years old when she gave birth to Staś. Four and one-half years after Staś was born, Pearl gave birth to another son, Joseph, who began to study the violin at age five. Joe eventually gave up his violin studies and later in life became a highly successful business professional.
When Staś was a young child, a tragic event occurred that would forever alter the lives of the Wisniach family. While working as a die setter with the Ford Motor Company, Walter lost his right hand in a machine accident. The family was forced to sell their home and go back "on rent"-a shameful circumstance for Polish Americans. Eventually, the family moved to and rented an upper flat at 5533 Chopin Avenue.
Pearl, who was 10 years younger than Walter, sought various jobs outside the home to help support the family. She worked at, among other establishments, Peter's Packing House on Michigan Avenue, one of the largest meat packing and slaughter houses in Detroit at the time. From there, she was hired by the Jim Dandy Ice Cream Parlor, where she was well liked. Pearl, who loved music and ballet, learned all the latest songs at the time, as Jim Dandy's had a jukebox. Following her job at Jim Dandy's, she worked at Whitaker's Bakery, where she sliced, packaged, and sold bread to customers. Pearl's sister helped out by watching Staś and Joe while Pearl worked.
At about four years of age, Staś began to sit under his mother's sewing machine and pump the floor pedal while humming and making believe that he was playing a musical instrument. While playing in this way, he would simultaneously eat homemade Polish noodles from a little pouch that his mother gave him to play with.
Staś's parents recognized his potential musical gift, and they were convinced of his talent after his Uncle Leo-Pearl's youngest brother-gave him a Hohner accordion, which he played until he was about eight years old. The accordion had about 12 buttons on the right-hand side and about six or eight button basses on the left. Walter took the young Staś, accordion in tow, to a wedding, where he sat him beside a concertina player. Staś played along in perfect time with the concertina player, prompting Walter to invest in an 80-bass, used Hohner accordion for him, as well as private accordion lessons. The eight-year-old Staś began writing musical arrangements at this time.
Staś attended Clippert Elementary School in Detroit, where he played drums in the band under the direction of music instructor John Kustodowich. At nine years of age, he became an orchestra leader. Already a composer, he began directing seven neighborhood youngsters in playing some of his arrangements. These sessions took place on the long front porch of the upper flat at 5533 Chopin Avenue, which the Wisniachs were renting at the time, and where Staś had hung a shingle imprinted with the words, "Accordionist for Hire." Upon hearing the boys play, a neighbor lady two doors down approached and hired three of them to play for her daughter's birthday party, telling them she would pay them a dollar. Thus, Staś played his first gig with a three-piece band, for which the boys were paid one dollar in total. As the boys expected $1 each, they had to decide how to handle the dilemma of the extra penny. It was decided that Staś, as leader, should get the extra penny, and so he collected his first leader's fee of 34cents.
From there, Staś, along with Frank Wiacek on saxophone and Joe Galdes on drums, procured other gigs, one of which was at Palen's Bar, which was owned by a Polish family. The threesome played at Palen's two nights a week and on Sunday afternoons, where they performed mostly Polish music with a few tangos and an American fox trot or two mixed in. During intermission, they would rush over to the drug store one-half block away and buy three milkshakes. Once, they were stopped by a police officer, who asked to smell their milkshakes. Satisfied that there was no alcohol in them, the police officer let them go on their way back to work.
It was a simpler and much more innocent era, a time during which young musicians traveled to their gigs by streetcar wearing their suits and ties and carrying their musical instruments, as it was rare for a young man to have a car. In fact, drummers and bass players were required to pay double fare on the Detroit streetcars because of the extra seat that their instruments filled. Therefore, some band members would chip in to help out the bass and drum players with their extra fare. However, many jobs were played right within the young musicians' own neighborhoods.
Walter scraped together enough money to enable Staś to study with Joe Koskowski, and then with Zygmund Hurski. Later, he studied with Frank Rogowski, and then Frank Kowaleski. When Kowaleski passed away, Walter took Staś to the Rudolph Wurlitzer Company music studio on Broadway, where he studied with Mr. Bertucci. At about 11 years of age, following Mr. Bertucci, Staś began studying with the master, George Cailotto, who recognized Staś's rare talent and who would be influential in Staś's success.
In one of those rare ironies of life, Staś's overly strict father was largely responsible for the development of his talent. As a child, Staś greatly feared his father, who hovered over him and demanded that he practice and become proficient on the accordion. This over-dominance was, at least in part, the result of Walter having lost his hand in the factory. So determined was he not to have his sons work in a factory that he rarely ever let loose the reins on Staś. As a result, Staś worked extremely hard and overcame seemingly incredible odds. Not only were his arms very short, but his hands also were small, and his fingers unusually short for an accordionist. Still, despite these obstacles, he excelled at his art and became-as most believe-the greatest accordionist ever to emerge from Detroit.
It was while studying under the master, George Cailotto, that Staś reached a pivotal point in his young career. Cailotto, whom Staś regarded as one of the most honest teachers he ever had, was born in 1912 and began teaching at the Rudolph Wurlitzer Company when he was 18. He remembered when Staś went to him as a student and recalled that the young prodigy had an abundance of natural talent. Cailotto knew that Staś had promise and believed that he would succeed, especially because his parents saw to it that he practiced.
Under Cailotto's direction, on February 17, 1936, Staś won first place in the Wurlitzer studio's talent competition, which brought him much fame and recognition. Staś, who was only 12 years old at the time, was a natural on the stage and thereafter was a featured performer in a week-long engagement at the Michigan Theater, where live stage shows were presented. With his accordion, Staś delighted the audience in his playing of such classical numbers as Rimsky-Korsakov's "Flight of the Bumblebee" and the Italian mazurka,Migliavacca." Ralph J. Rigio, the studio director of Wurlitzer, via telegram, asked him to perform in the studio to help sell accordions.
Staś also received a telegram at his home at 5533 Chopin Avenue from talent scouts at Delbridge and Gorrell, who were interested in representing the young genius. Thus, at only 12 years of age, Staś was being pursued by agents. History was being made at the home at 5533 Chopin Avenue in our west side neighborhood.
Walter Wisniach eventually purchased a home again-a cozy bungalow at 7326 Artesian in the Warrendale district of Detroit's west side. While living in the house on Artesian, the family belonged to Ss. Peter and Paul Catholic Church at 7685 Grandville. Later, when Staś grew older, he would open a music studio in that same neighborhood.
Staś attended Munger Intermediate School and then was recommended by George Cailotto for studies at the Detroit Institute of Musical Art. Simultaneously, he attended Cass Tech High School, where he majored in music, studying the saxophone, clarinet, violin, drums, piano, and theory. Surprisingly, he did not study voice, yet he had a naturally beautiful singing voice with an expressive tremolo. At Cass Tech, he also played accordion in the 22-piece dance band. He remembered standing backstage on his first day at Cass Tech and hearing the concert band play. In an interview, he recalled, "I stood back there and I had tears coming down my cheeks to think, 'I'm going to be a part of this."
At the Institute, Staś studied under Frank Cusenza, who held a master's degree in music. Cusenza's primary instruments were Italian mandolin, clarinet, and guitar. He also taught piano, accordion, and theory. Cusenza once conducted the Detroit Symphony Orchestra in a performance of one of his original compositions. Staś's studies at the Institute were interrupted by a brief move to California, where he worked as a bellhop, and then a two-year tour of service in the Army. During basic maneuvers, Staś, along with several other soldiers, broke his back in a tragic fall of about 27 feet in a rappelling exercise as a result of some defective equipment. The accident, which required him to remain in the hospital in a body cast for a year, would leave him with a deformed spine, severe arthritis, and excruciating pain that he endured for the rest of his life.
When Staś graduated from the Institute in 1945, he had the distinction of being the first student from the Institute for whom the accordion was recognized as his major. In 1949, Staś served as president of the Detroit Chapter of the Accordion Teachers Guild, and he remained involved with the organization for decades. Paul DeCarlo and Joe Massimino were vice presidents, Frank Rogowski was treasurer, and George Cailotto was band director. He continued performing in clubs and for Polish weddings and other cultural events in and around the Detroit area.
In the early 1950s, Staś landed a gig at the west side's Tip-Top Inn at 6003 Proctor, which would ultimately open many doors for the young musician. It was while working at the Tip-Top that a woman scout arrived one evening specifically to seek out Staś. She approached Staś and advised him that popular singer and recording artist Bobby Vinton, another Polish-American, was looking for an authentic Polish-American musician to perform for a function that he intended to hold. Staś was hired on the spot. It was not the last time that his path would cross Bobby Vinton's, however; he would meet up with Vinton many years later in California.
It was also while working at the Tip-Top that Staś received the biggest break of his career. A group of executives from WXYZ Television had heard of the virtuoso via word of mouth, and they arrived at the Tip-Top one evening to see him perform. Immediately upon observing Staś's performance, the men approached him and persuaded him to join the staff of WXYZ and to lead the orchestra on its pilot of the Club Polka program. Staś remained on the show and as a staff musician with WXYZ, as well as being featured on the Soupy Salesshow and Our Friend Harry children's show, for many years. He also went into the music studio business, joined by his oldest son, Richard, selling musical instruments and sheet music, as well as teaching in his studio, first at 16430 Plymouth Road, and later on West Warren Avenue in the Warrendale district of Detroit. He hired a staff of part-time music teachers, including polka orchestra leader and colleague Ted Gomulka.
In the early 1960s, Staś was invited by Polish singer and WJLB radio announcer Leszek Kobylinski to record an album of ballads, along with pianist Jan Wojnar and his ensemble. The 33-1/3 album, "Sentimental Journey to Poland," was released on the Monitor Records label (New York), with jacket notes by Richard Kubinski. Staś said that he recorded the album without a rehearsal, which is remarkable. His playing is smooth and flawless with jazz overtones. At the time, Staś had no inkling that that the album would one day be incorporated into the Smithsonian Institute's repertoire of folk art recordings.
From the mid-1960s until 2001, Staś lived in California, where he enjoyed a vibrant career, including many years of performing again with his son Richard. It was in California that he crossed paths again with Bobby Vinton. He was invited by Bobby Vinton on three separate occasions to perform. Two of the performances were at the home of Bobby Vinton for events that Vinton and his wife were holding. The other was an event held by a record company. Staś's performances left such an impression that he was later invited to perform for the ceremony commemorating the installation of a star honoring Bobby Vinton on the sidewalks of Hollywood.
In 2001, Staś fulfilled a wish to return to the Detroit area, where he continued to perform at various restaurants and for special functions. He became a local celebrity again and was featured in many newspaper articles.
In October 2003, following the release of the book Horn Man: The Polish-American Musician in Twentieth-Century Detroit, Staś was interviewed on National Public Radio by WDET's Celeste Headlee. Subsequently, many feature articles about him appeared in such publications as The Observer & Eccentric,The Oakland Press, The Polish American Journal (Buffalo, NY), The Polish Weekly(Hamtramck, MI), The Polka News (St. Charles, MI), and The Post Eagle (Clifton, NJ), among others.
In February 2004, Staś was selected by a group of panelists to receive the Michigan State University Museum's State Heritage Award, which is administered by the MSU Museum in conjunction with the Michigan Council for the Arts and supported by the National Endowment for the Humanities. An informal awards ceremony took place on February 27, officiated by State Representative Aldo Vagnozzi and Steve Stolaruk, president of the Michigan Accordion Society. Staś was presented with a legislative decree signed by Governor Jennifer M. Granholm and State Representative Aldo Vagnozzi. A formal awards ceremony took place in August during the Great Lakes Folk Festival in East Lansing, where Staś received another legislative decree signed by Governor Granholm in recognition of his many years of accordion playing. In addition, Staś was awarded a grant under the Michigan State University Museum's Traditional Apprenticeship Program to tutor a young accordionist in the art of accordion playing from February through August 2004.
On Tuesday, February 24, 2004, during a performance at the Post 10 P.L.A.V. (Polish Legion of American Veterans) at 11824 Jos. Campau in Hamtramck in celebration of pączki Day, Staś was interviewed by WJR News/Talk 760 AM-Radio commentator and producer Rachel Nevada for her "Rachel Around Town" segment of The Frank Beckman Show, which airs Monday through Friday from 9 to 11:30 a.m. Ms. Nevada, a producer of The Frank Beckman Show, previously had been with The Mitch Albom Show for eight years. Her feature story garnered Ms. Nevada many prestigious awards.
In March 2005, Ms. Nevada won Best Feature Award in the Radio News medium for her story, "pączki Day at the Post 10 P.L.A.V. in Hamtramck with Staś Wisniach," in the Michigan Association of Broadcasters Awards competition. She received her award at a ceremony in Lansing on March 8, 2005. The Poletown Polka Player story then took Best Feature in the regional judging by the Radio Television News Directors Association in the Edward R. Murrow Awards. Poletown Polka was judged the Best Feature of the Year in an area encompassing Michigan, Ohio, Indiana, and Illinois, which included numerous major stations. It went on to the national competition in RTNDA to compete for a national Murrow. The story also took second place at the Associated Press awards in April 2005.
In March 2004, Staś was invited to Cleveland, Ohio, as part of a panel of speakers at the joint conference of the Society for American Music and the Association for Recorded Sound Collections. The program was chaired by Louise Spear of the Grammy Foundation.
Staś was unanimously named Farmington/Farmington Hills Artist-In-Residence in April 2004, and in May he was selected by the board of directors of the Michigan Accordion Society as the 2004 Honoree.
In 2006, the West Side Detroit Polish American Historical Society was founded with Staś as its first President.
Staś was a respected member of the Michigan Accordion Society. He was also a member of the Friends of Polish Art (a nonprofit organization dedicated to the propagation of Polish and Polish-American art and culture, and an affiliate of the American Council for Polish Culture). He was also a proud member of the Polish American Historical Association.
Throughout his long and illustrious career, Staś wrote and recorded an abundance of music, and he registered many of his compositions with the U.S. Copyright Office. Music was always the most important thing in Staś's life, besides his faith. Although he loved and appreciated nearly all genres of music, his first love was classical music. Seeing the great Jan Ignace Paderewski in concert, a privilege Staś had as a young boy, was one of the greatest moments in his life. His love of classical music is reflected in some of his polka numbers, such as his "Yiddish Polka." He often reflected during his lifetime that he felt he was born 10 years too late, as accordionists a half generation before him were able to enjoy rich classical careers.
Staś once recalled an occasion on which he was alone in the studio of Louis Mitchnick, who, along with Mr. Strongaroni and Stanley Buswink, made Staś the best handmade accordion that he had ever had in his entire career. Mr. Mitchnick was in the back of his shop quietly working, and Staś, who knew that he was fond of the piece "Zigeunerweisen," or "Gypsy Airs," began to play it on his accordion. When he was finished, Mr. Mitchnick came out from his shop with tears flowing down his cheeks. Staś's accordion playing had the power to move people to tears.
One of Staś's admirers once said that when he listened to Staś play the accordion, he couldn't determine where Staś ended and where the accordion began, and that during a performance the two were one.
Staś is an icon of Detroit. He performed for more than 70 years in the music industry, the last five of which were while confined to a wheelchair.
When Staś Wiśniach was a child, a friend of his mother told her that that Staś was like quicksilver, always going off in many directions. But she told Mrs. Wisniach not to worry about him because he would always return to his original configuration.
When Staś returned to Detroit in his later years, he often recalled fond memories of his childhood and the family home at 5533 Chopin Avenue, which was within walking distance of Our Savior Polish National Catholic Church at 5272 Chopin Avenue, where the Wiśniachs attended church services. One of his fondest memories was of walking to church in the wintertime through the snow and hearing the snow crunch beneath his feet.
Staś came full circle in his lifetime, returning "to his original configuration." His desire in his later years to return to his birthplace of Detroit was fulfilled, and it is fitting that as the founding President of the West Side Detroit Polish American Historical Society his home at 5533 Chopin Avenue-where as a young professional musician he hung his first sign, "Accordionist for Hire"-be added to the Society's list of Significant Sites. History was made on that site, and now that same history has been preserved forever. The home is also incorporated as a featured site on the mural that artist Dennis Orlowski has painted in the Society's Heritage Room.
Staś Wiśniach and his accordion music will live on forever, not only in the Society's Heritage Room, but also in the hearts of all who knew and loved him.
Sources: Horn Man: The Polish-American Musician in Twentieth-Century Detroit by Laurie A. Gomulka Palazzolo. (Copyright C 2003, American Polish Music Society; distributed by Wayne State University Press). All rights reserved. Used with permission.
Dom Polski: Dance Hall Days of Detroit's Polonia by Laurie A. Gomulka Palazzolo. (Copyright C 2007). All rights reserved. Used with permission.