In Commemoration of All Souls Day And Veterans' Day
THE WEST SIDE DETROIT POLISH AMERICAN HISTORICAL SOCIETY
Pays Tribute to EDWARD DONALD SLOVIK (Pvt. Eddie D. Slovik)
February 18, 1920 – January 31, 1945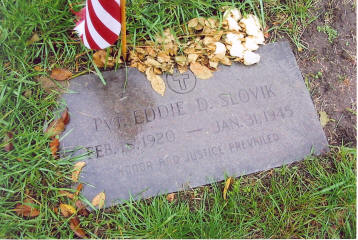 Eddie D. Slovik was a Polish American born and raised on Detroit's west side. He served as a private in the U.S. Army during World War II. He was the only American soldier to be executed for desertion since the American Civil War.
As a child and teenager, Slovik ran up against the law on numerous occasions. His first arrest came at twelve years of age, for breaking into a foundry with friends and stealing some brass. Other breaking and entering incidents followed, as well as incidents of disturbing the peace. In 1939, he was sentenced to a jail term after stealing a car and crashing it after a drunken joy ride with two friends.
Although he was classified as unfit for duty because of his criminal record, Slovik was subsequently reclassified and drafted into the U.S. Army about a year after taking Antoinette Wisniewski as his bride on November 7, 1942. On January 24, 1944, Slovik was assigned to Camp Wolters, Texas, for basic military training, and in August was dispatched to France as part of the twelve reinforcements assigned to Company G of the 109th Infantry Regiment, U.S. 28th Infantry Division. Afraid to fight, Slovik, along with his friend, Pvt. John Tankey, hid out during an artillery attack. After becoming separated from their detachment, they hid out for six weeks with a Canadian military police unit. When they returned to their regiment, no charges were filed since Tankey had written their commander and explained their actions.
The next day, Slovik told his company commander, Ctn. Ralph Grotte, that he was too frightened to serve in a rifle company and threatened to run away if assigned to one. He asked to be reassigned to a rear area unit and questioned whether running away would be considered desertion. Grotte confirmed that it would and refused to reassign him, instead assigning him to a rifle platoon.
Slovik's repeated written requests for reassignment were denied and he deserted several times. He signed a confession declaring himself unfit to fight and stated he would rather face a court martial. Nine officers of the court found Slovik guilty of desertion and sentenced him to death. The sentence was reviewed and approved by the divisional commander, Major General Norman Cota.
On December 9, Slovik wrote to the Supreme Allied commander, General Dwight D. Eisenhower, pleading for clemency. Because desertion had become a problem, Eisenhower was unyielding, intent to make an example of Slowik. The execution was carried out before a firing squad on January 31, 1945, at 10:04 a.m. Slovik was twenty-four years old.
Slovik was buried in "Plot E" in Oise-Aisne American Cemetery and Memorial in Fère-en-Tardenois, alongside ninety-six other American soldiers in who had been executed for crimes such as murder and rape, his grave marked with an obscure marker.
In 1987, forty-two years after his execution, Slovik's remains were returned to his home state and interred in Woodmere Cemetery on Detroit's west side. Antoinette, who died in 1979, had tried unsuccessfully for years to collect her husband's insurance death benefit, which was refused since he died under dishonorable circumstances. She lived her last days on Social Security in a Detroit nursing home, disabled and suffering from heart trouble and breast cancer. Pvt. Slovik's re-interment was due to the efforts of former Macomb County Commissioner Bernard V. Calka, a Polish-American World War II veteran, who lobbied for years on Slovik's behalf and spent approximately $8,000 for the transfer of the remains from France to Detroit's Woodmere Cemetery, where he rests next to Antoinette.
Twenty-one thousand soldiers were given varying sentences for desertion during World War II-including forty-nine death sentences. However, Slovik's death sentence was the only one carried out. Although Antoinette and others petitioned seven U.S. presidents, Pvt. Eddie D. Slovik has not been pardoned.
For an in-depth story about the life of Pvt. Eddie D. Slovik, see:
The Detroit News: Rearview Mirror Story