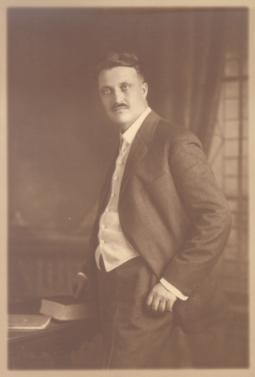 JOSEPH JULIUS GWIZDOWSKI
Architect of the West Side Detroit Dom Polski
Born July 7, 1880
Gwizdów, Galicia, Poland
Immigrated March 6, 1904 (New York, NY)
Deceased May 19, 1940 (Detroit)
Joseph Julius Gwizdowski was born in the southern region of Poland, then occupied by the Austro-Hungarian Empire. He was the son of Antoni Gwizdowski, a farmer, and Agnes Czerwinska, and the younger brother of Jan Adam Gwizdowski. He graduated from the State Technical Institute in Lemberg, Austro-Hungarian Empire (Polish: Lwów, Ukrainian: Lviv) in 1900 and worked for the Austrian government supervising the construction of railroad stations.
In 1904 he immigrated to the United States and settled in Chicago, where he was enrolled at Loyola University. He was employed by the architectural firm of Worthman and Stienbach, and later, the firm of W. B. Hartigan.
While engaged with the firm of Worthman, he was involved in the design and construction of numerous residential buildings. Among them are those in the area of W. Superior Street, where Joseph is known to have lived from about 1908 to 1913.
In 1911, while working for the firm of W.B. Hartigan, he designed the Polish Women's Alliance building at 1309 N. Ashland in Chicago. This building was designed in the Classical Revival tradition-the thematic style that Joseph gravitated toward in all his known works. It was there that his work was introduced to the various Polish organizations that commissioned much of his later works.
In 1914 he relocated to Detroit and, in that year, married Stephania Koscinski. In 1915 he designed the West Side Detroit Dom Polski at 3426 Junction, and also designed the current home of the Polish Art Center at the corner of Jos. Campau and Norwalk. During the 1920s, he designed Hamtramck Municipal Hospital, which was later named Saint Francis Hospital and now serves as Hamtramck City Hall. This building is a Michigan Historic Site. He also designed St. Cunegunda Parish Catholic School, and the original Detroit Police Davison Avenue station, which has since been demolished.
In 1930 he was commissioned by the Polish National Alliance to design the main campus building of Alliance College in Cambridge Springs, Pennsylvania, and in 1934-1935 worked in Washington, D.C., as Assistant to the Architect of the U.S. Treasury. In 1935 he was Resident Engineer for the P.W.A. project in Detroit and returned to private practice in 1937.
He was a charter member of the Michigan Society of Architects, and was a member of the Polish Engineers Society, Polish Falcons Nest No. 31, and the Polish National Alliance.
He died May 19, 1940, and is interred at Mt. Olivet Cemetery in Detroit. He was survived by his wife Stephania and two sons, Joseph Anthony and Witold Stefan. He is survived in 2005 by five grandchildren, six great grandchildren, and two great-great grandchildren.